View Manual
Product Overview
This Concrete Mixer Bucket make easy of Loading, mixing and delivering concrete across a work site. Mixing concrete has never been so simple with the ability to add cement powder quickly using the in-built bag breaker. With a hydraulic opening at the bottom of the attachment as well as a detachable unloading pipe, you have maximum control over each pour.
Details
Features:
- It comes with Hardox blades and bottom.
- It loads up the loose material like a normal bucket.
- After mixing it downloads the concrete through the central outlet or by tilting the bucket.
- The hinged front safety grid can be opened to clean up interior.
- All price include shipping
Specifications: 
- Bucket Width: 47"
- Overall Width: 58.8"
- Oil Flow, Min-Max: 
25-40 Lt/min
- Oil Pressure, Min-Max: 170-200 Bar
- Weight: 723lb
- Rated Capacity: 220 Lt
- Maximum Capacity: 280Lt
- Concrete Weight @Maximum Capacity: 1455lb
- Package Size (LxWxH): 65.2 x 36.9 x 34.3in
- Package Weight: 796lb
Technical Drawing: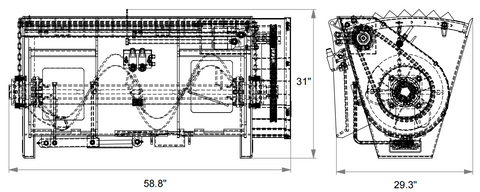 Inner Width 44.9" Universal Skid Steer Quick Attach:
ATTENTION: Please check the Mount Plate can fit your loader before purchase!
Due to the buyer's failure to verify the size of the mount plate before purchasing, the product cannot match the loader and needs to be replaced. Our company does not accept returns unless the buyer compensates the seller for the round-trip shipping cost. For refunds, we will not refund product fees unless we receive the product in our warehouse and confirm that it can be resold.
Your payment information is processed securely. We do not store credit card details nor have access to your credit card information.