Product Overview
Skid Steer Pallet Forks is a vital tool for moving any industrail where bulky bales or palletized materials.
Details
Features:
- Heavy Duty Load Guard; 
- Easy Hook Up with No Hinging Forks Tines; 
- Adjustable Latch Locked Forks Tines;
- Universal Skid Steer Mount
- ONLY FRAME (FORKS SHOWN NOT INCLUDED)
- 48'' Forks of 4''x1.5'', need to be ordered separately
- All price include shipping

 Specifications:
- Capacity: 4400lb
- Weight: 209lb (only frame)
- Forks Size: 4x1.5x48in (Forks not included, need to be ordered separately)
- Frame Width: 49in
- Fork Slots: 7.2x2.5in
- Material: Steel
- Package Size (LxWxH): 55.7 x 38 x 15.4 in
- Package Weight: 262lb

Technical Drawing: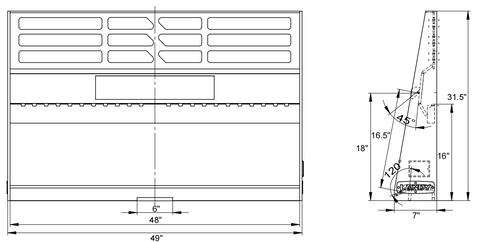 Inner Width 48" Universal Skid Steer Quick Attach:
ATTENTION: Please check the Mount Plate can fit your loader before purchase!
Due to the buyer's failure to verify the size of the mount plate before purchasing, the product cannot match the loader and needs to be replaced. Our company does not accept returns unless the buyer compensates the seller for the round-trip shipping cost. For refunds, we will not refund product fees unless we receive the product in our warehouse and confirm that it can be resold.
Your payment information is processed securely. We do not store credit card details nor have access to your credit card information.