Product Overview
Extreme-Duty Snow Plow / Dozer Blade combo attachment for skid steer loaders and compact tractors.
Light-Duty Snow Plow / Dozer Blade attachment for skid steer loaders.
It can be used as both a snow plow or heavy-duty dozer blade for moving earth and/or various other materials.
The blades are extensively used in North American and are proven in quality of the best fit in multi applications.
Details
Features: 
- Universal Skid Steer Style Hookup
- Power Requirement: 45-60 HP
- Shocks to Maximize Efficiency and Blade Life
- Heavy-Duty Construction
- Single Cylinder Operation
- All price include shipping
Specifications:
- Width: 72"
- Weight: 470lb
- Circumgyrate Degree 28.5°
- Blade Thickness: 1/8in
- Cutting Edge Thickness: 7/16in
- Package Size (LxWxH): 79.4 x 37.2 x 32.3in
- Package Weight: 547lb 
Technical Drawing: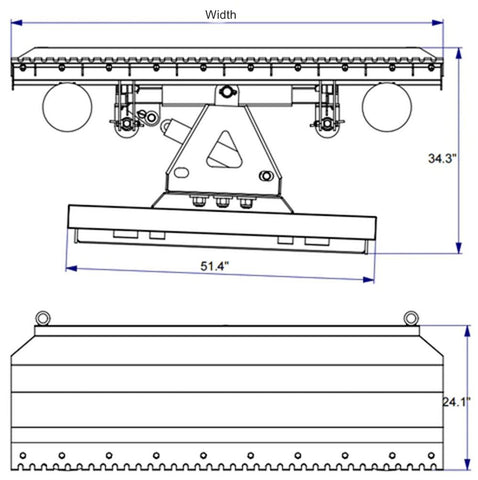 Inner Width 48" Universal Skid Steer Quick Attach:
ATTENTION: Please check the Mount Plate can fit your loader before purchase!
Due to the buyer's failure to verify the size of the mount plate before purchasing, the product cannot match the loader and needs to be replaced. Our company does not accept returns unless the buyer compensates the seller for the round-trip shipping cost. For refunds, we will not refund product fees unless we receive the product in our warehouse and confirm that it can be resold.
Your payment information is processed securely. We do not store credit card details nor have access to your credit card information.