Product Overview
The Skid Steer Rock Grapple Bucket is an extremely versatile attachment.
Grapple Buckets combine the sifting prowess of Rock Buckets with strong twin cylinder, dual independent grapple arms. Pick up rocks, clean up job-sites, clear brush, dress yards, carry logs and firewood. With 3/8" bucket tines, 1/2" grapple tines, enclosed cylinders and grease fitting on pivot points this grapple bucket is ready for the hard work.
Details
Features: 
- Skid Steer Quick Attach Mount
- Two Cylinder
- Dual Independent Grapple Arms
- 3/8" Bucket Tines, 1/2" Grapple Tnes
- 3.2'' Spacings
- All price include shipping
Specifications:
- Width: 72"
- Height: 23.6in
- Bucket Depth: 36.9in
- Bucket Height: 19.1in
Technical Drawing:
72" Grapple: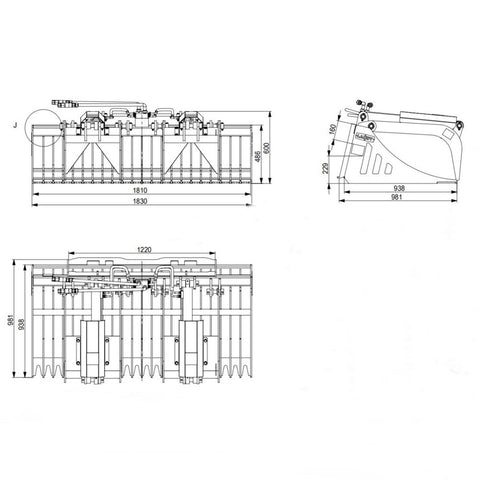 Inner Width 48" Universal Skid Steer Quick Attach:
ATTENTION: Please check the Mount Plate can fit your loader before purchase!
Due to the buyer's failure to verify the size of the mount plate before purchasing, the product cannot match the loader and needs to be replaced. Our company does not accept returns unless the buyer compensates the seller for the round-trip shipping cost. For refunds, we will not refund product fees unless we receive the product in our warehouse and confirm that it can be resold.
Your payment information is processed securely. We do not store credit card details nor have access to your credit card information.