Product Overview 
72" Skid Steer Bi-Directional Rotary Tiller is the ideal attachment for preparing gardens, food plots or seedbeds. The bi-directional rotation allows you to work more efficient to quickly pulverize soil and cover your tracks. The direct-drive motor and replaceable, double-edge hardened tines mean increased productivity and lower maintenance. This rotary tiller has a universal mount enabling it to fit on almost all models of skid steers.
Details
Features: 
- Universal fit to most skid steer loaders
- Ideal for preparing gardens, food plots, or seedbeds
- Bi-directional rotation increases work efficiency
- Direct-drive motor reduces maintenance and increases efficiency
- Replaceable double-edge hardened tines
- Adjustable shoes on both sides to control the tilling depth
- Flat face couplers included
- Hose protection wrapping
- All price include shipping
Specifications:

- Tilling depth: 6 inches
- Tine quantity: 36
- Flow range: 18-23 GPM
- Flow pressure: 2900 psi
- Drive direction: forward/reverse
- Unit Weight: 864lb
- Package Size (LxWxH): 90.4 x 39.2 x 34.8in
- Package Weight: 963lb
Technical Drawing: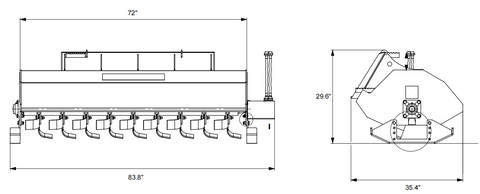 Inner Width 48" Universal Skid Steer Quick Attach:
ATTENTION: Please check the Mount Plate can fit your loader before purchase!
Due to the buyer's failure to verify the size of the mount plate before purchasing, the product cannot match the loader and needs to be replaced. Our company does not accept returns unless the buyer compensates the seller for the round-trip shipping cost. For refunds, we will not refund product fees unless we receive the product in our warehouse and confirm that it can be resold.
Your payment information is processed securely. We do not store credit card details nor have access to your credit card information.