Product Overview
The product can quickly move a large amount of snow in the harshest environment, from mountain to municipal snow removal, it is the best choice for industrial and commercial snow removal. It can provide high flow and standard flow configuration. The products are carefully designed, durable and reliable. Sturdy structure, easy to install on the skid steering system.
Details
Features:
- Direct drive hydraulic auger;
- Replaceable bolt-fixed high carbon steel cutting edge;
- Hydraulic control valve with solenoid valve to control all chute functions;
- Easy-to-adjust depth anti-skid shoes
- All price include shipping
Specifications:
- Cutting Width: 72'' 
- 
Auger Diameter: 13'' 
- 
Fan Diameter: 20'' x 5 blades
- 
Chute Rotation: hydraulic pressure 270°
- 
Chute Outlet Diameter: 9.5'' 
- 
Weight: 926lb
- 
Flow rate: 15~23GPM
- 
Operating pressure: 2500~3500psi (17Mpa~24Mpa)
- Package Size (LxWxH): 83.3 x 45.5 x 35.8in
- Package Weight: 1014lb
Technical Drawing: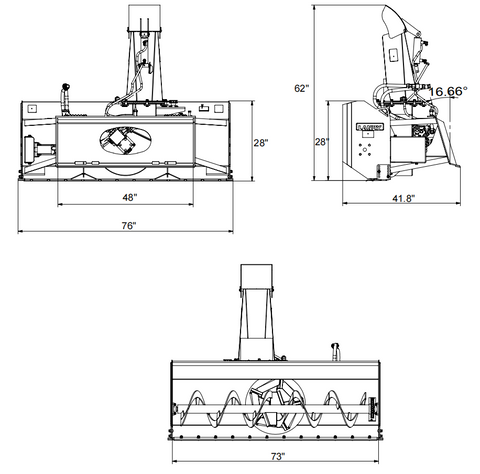 Inner Width 48" Universal Skid Steer Quick Attach:
ATTENTION: Please check the Mount Plate can fit your loader before purchase!
Due to the buyer's failure to verify the size of the mount plate before purchasing, the product cannot match the loader and needs to be replaced. Our company does not accept returns unless the buyer compensates the seller for the round-trip shipping cost. For refunds, we will not refund product fees unless we receive the product in our warehouse and confirm that it can be resold.
Your payment information is processed securely. We do not store credit card details nor have access to your credit card information.