Product Overview
Type T-SPR-250 Salt Spreader fitted with Tow bar (optional), 3-point suspension cat. The spreader rotor is driven via the left wheel, and is fitted with studded tires which deactivate the drive on the roller when moving in reverse. The rotor action is deactivated via a fitting on the wheel.
Specifications
- Working Width: 1200 mm
- Tank Volume: 250L
- Body Dimensions Top: 560 x 1200 mm
- 3-Point Hitch Suspension: Standard
- Tow Bar Suspended
- Weight: 159.48 kg
Technical Drawing: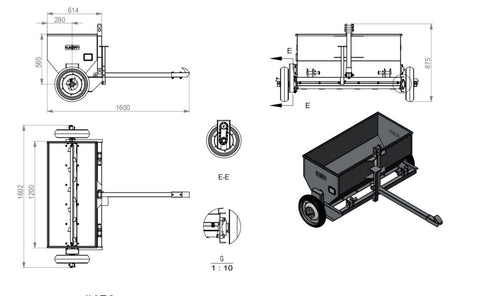 Your payment information is processed securely. We do not store credit card details nor have access to your credit card information.