Product Overview
The Heavy Duty Pole Setter is designed to handle big, heavy utility poles up to 45 feet long. 
With the Heavy Duty Pole Setter, the operator can pick up a pole on the ground, or on a trailer, and rotate up to the vertical. 
At this point the operator can easily position the pole the way he wants, without any effort, and with a complete security.
It opens to 22 inches and closes down to 5 inches (0 inches with optional inserts), and assures quick and easy loading, unloading, pulling or setting of 45 foot utility poles. 
The Heavy Duty Double Pole Claw eliminates the need for cranes, slings, and man-hours. 
The Rubber lining prevents damage, and the second sequencing claw allows for precision setting.
Details
Features:
- Fit all the Skid Steers equipped with the Universal Quick Tach.
- Rotates to 115 degrees .
- Designed with 2 independent jaws that open and close one after another for more security and safety.
- Designed with a double cylinder rotating plate for more stability and precision.
- Made of 1/2 inch steel grade 80 or higher.
- Comes standard with rubber lining to protect the pole.
- The clamping is activated by two 3'' X 6'' cylinders.
- The backing plate is designed to carry the pole above the skid steer to facilitate the pole transportation and reduce the natural movement of the pole.
- Comes complete with flush faced coupler, spring hose mount and wiring harness
- Can be adapted to Excavator, Wheelloader, Telehandlers and Backhoes.
- All price include shipping.
Application:
The Heavy Duty Pole Setter is currently being used in the following industries:
- Utilities
- Rural Electric Associations
- Electrical Contractors
- Mining
- Oil
- Foundations
- Government
- Parks and Recreations
- Piling and Shoring
- Boring and Drilling
- Fencing
- Wind Tower Installation
- Solar Panel Installation
- Electric Cooperatives
- Weight: 1365lb
- Package Size (LxWxH): 68 x 55.7 x 27.6in
- Package Weight: 1457lb

Technical Drawing:

Operating Button: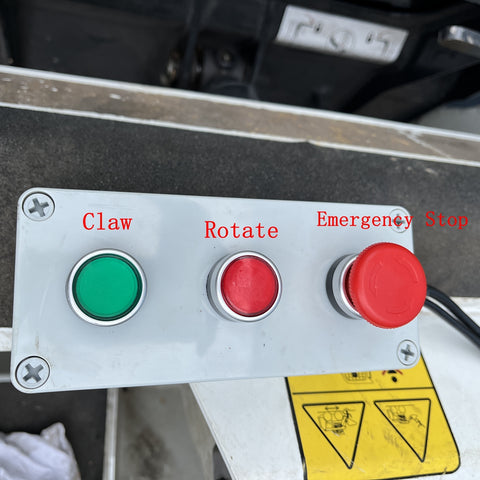 Inner Width 48" Universal Skid Steer Quick Attach:
ATTENTION: Please check the Mount Plate can fit your loader before purchase!
Due to the buyer's failure to verify the size of the mount plate before purchasing, the product cannot match the loader and needs to be replaced. Our company does not accept returns unless the buyer compensates the seller for the round-trip shipping cost. For refunds, we will not refund product fees unless we receive the product in our warehouse and confirm that it can be resold.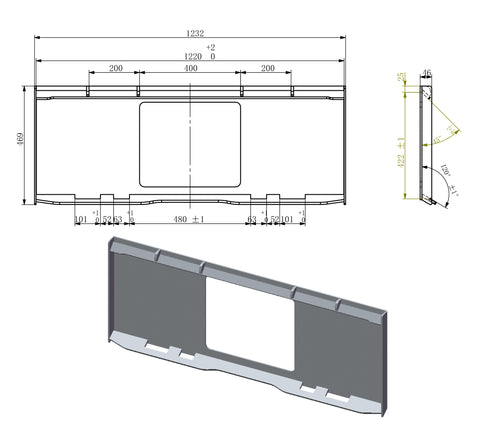 Your payment information is processed securely. We do not store credit card details nor have access to your credit card information.