Product Overview
The SPR-800 salt spreaders are hydraulically operated and self-loading, which are well-suited for spreading coarse sand, and coarse sand mixed with salt, fine gravel, crushed granite, etc.
Details
Features:
- The hydraulic-driven agitator with slanted vanes ensures the material does not form a bridge in the machine.
- The self-loading models are delivered a s single version where roller and agitator are galvanised. This means the machines have a very corrosive-resistant surface for extended product life. The body can be galvanised or painted for option.
- The powerful 250 cc hydraulic motor is well-protected in the rear of the machine and drives both the agitator and the roller via a reinforced 5/8'' drive chain and hardened gear wheel.
- The powerful steel hydraulic flow control valve ensures optimal machine operation and easy rotor speed adjustment to deliver the required material volume.
- The stone release mechanism prevents large stones from being trapped at the rotor. Four settings permit adjusting to the size of the material being used and enable rapid unloading.
- All self-loading spreaders are feature High Grade steel for the body, sturdy vertical wear rails and horizontal steel edges around the top.
Specifications:
Product size: 1651*1112*1023mm
Package size: 1816*1336*1110mm
Technical Drawing: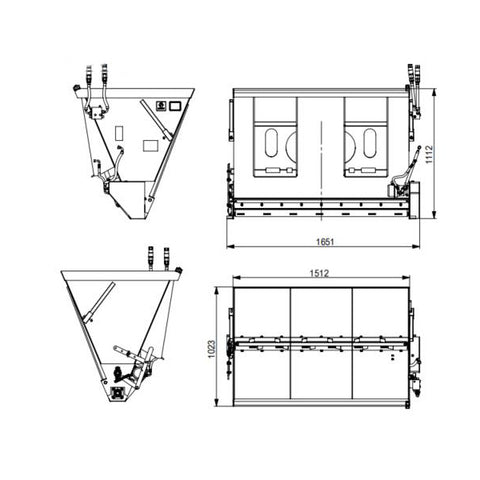 Inner Width 44.9" Universal Skid Steer Quick Attach:
ATTENTION: Please check the Mount Plate can fit your loader before purchase!
Due to the buyer's failure to verify the size of the mount plate before purchasing, the product cannot match the loader and needs to be replaced. Our company does not accept returns unless the buyer compensates the seller for the round-trip shipping cost. For refunds, we will not refund product fees unless we receive the product in our warehouse and confirm that it can be resold.
Your payment information is processed securely. We do not store credit card details nor have access to your credit card information.