Product Overview
12" and 18" diameter compact drive & Auger for skid steer loader. Takes the effort out of digging the right sized hole for the task at hand. A hydraulic motor drives the auger through a sealed planetary gear reduction. The heavy duty all gear design of our planetary drives gives these units a long life with minimal maintenance and service costs.
Details
Features: 
-
 Perfect for digging holes to plant trees, install fence posts & more
- Fits Inner Width 44.9" Universal Skid Steer Quick Attach
- Direct Drive Through Planetary Gear
- 6-15 GPM Flow Range
- 2" Hex
- Mounting Plate, Hoses and Couplings Included
- All price include shipping
Specifications:
- Auger Diameter: 12"+18''
- Hydraulic Flow Required: 6-15gpm
- Rated Output Torque: 950N.m
- Max Output Torque: 2500N.m
- Max Input Speed: 1000rpm
- Unit Weight: 520lb
- Blade Thickness: 0.15in
- Shaft Diameter: 3.3in
- Shaft Length: 45in
- Package Size: 
53.4 x 23.9 x 39.4in
- Package Weight: 582lb
Technical Drawing: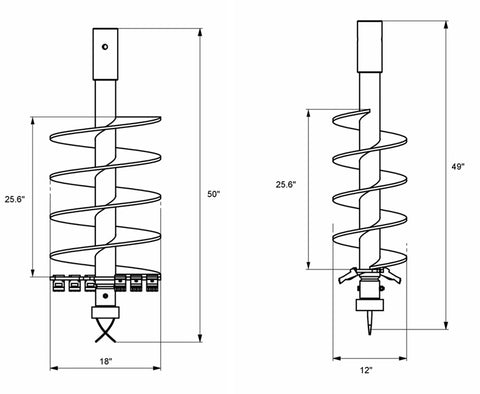 Inner Width 44.9" Universal Skid Steer Quick Attach:
ATTENTION: Please check the Mount Plate can fit your loader before purchase!
Due to the buyer's failure to verify the size of the mount plate before purchasing, the product cannot match the loader and needs to be replaced. Our company does not accept returns unless the buyer compensates the seller for the round-trip shipping cost. For refunds, we will not refund product fees unless we receive the product in our warehouse and confirm that it can be resold.
Your payment information is processed securely. We do not store credit card details nor have access to your credit card information.