Product Overview
Use this Quick Tach mount plate to easily move trailers or other tow-able implements that use the 2" trailer hitch.
Details
Features:
- Fits skid steers with the universal quick tach mounting system and tractors with the skid steer style quick tach
- 3,000 lbs capacity
- 4 Gussets for superior strength and integrity
- 2" trailer receiver hitch
- Oblong holes for tow chains
- Grade 50 structural steel
- All price include shipping
Specifications: 
- Outside width: 46"
- Inside width: 45"
- Height: 18.5"
- Top bar: 3/8" thick
- Plate: 1/4" thick
- Product size: 1232*245*480mm / 48*9.6*18.7in
- Product Weight: 39.42kg / 86.7lb
Technical Drawing: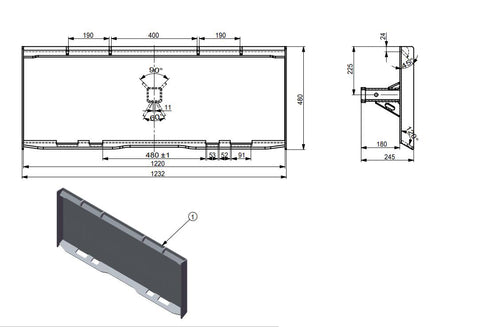 Your payment information is processed securely. We do not store credit card details nor have access to your credit card information.