Product Overview
The best Bucket Tilt control system available in the industry. The Tilting 4 in 1 utilises our industry leading 4 in 1 Bucket design with a tilting rear pickup.
The unique design means it is possible to continuously vary the cutting edge relative to the inclination of the loaders front wheels. This is particularly useful when working on an incline whilst trying to perform a straight cut.
Details
Features:
- Use as a grapple for moving debris
- Use blade to push dirt like a dozer
- Dig with the bucket
- Back drag like a box blade
- All price include shipping
Specifications:
- Width: 68"
- Rotate: ±15°
- Product Size: 68.25*29.29*17.92in
Technical Drawing: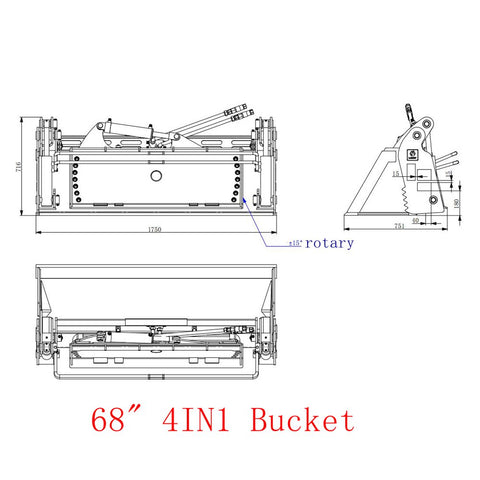 Inner Width 48" Universal Skid Steer Quick Attach:
ATTENTION: Please check the Mount Plate can fit your loader before purchase!
Due to the buyer's failure to verify the size of the mount plate before purchasing, the product cannot match the loader and needs to be replaced. Our company does not accept returns unless the buyer compensates the seller for the round-trip shipping cost. For refunds, we will not refund product fees unless we receive the product in our warehouse and confirm that it can be resold.
Your payment information is processed securely. We do not store credit card details nor have access to your credit card information.